Rose Russell, The Ursuline Academy Ilford
Part of my job as STEM Coordinator is to provide opportunities for students to engage in exciting extracurricular projects. 
It's rewarding to see how these activities have raised their aspirations through exposing them to the world of work and allowed them to see how the STEM subjects can lead to exciting careers and that there are opportunities out there for them. 
Participating in The Big Bang Competition last year gave a team of my students the opportunity to take part in activities that urged them to think creatively, activities that stretched and challenged their knowledge improving their self-esteem and confidence.  Activities that helped showcased industry standard skills they all built and developed and proving how capable they could work under pressure.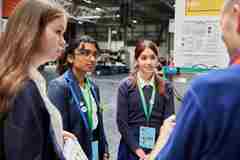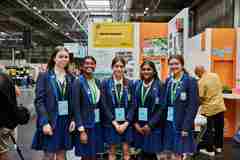 These are normal secondary school students, and to watch how some were shy and timid at the start but at the end to see the difference, how they were transformed into confident and high-achieving young people.
It makes you realise that we should never underestimate the value of extra-curricular activities. 
However, it's not always about winning trophies just the experience of competing in a challenge has an incredible effect of self-confidence motivation and pride for them. Though, failure and setbacks can also be opportunities for growth and learning.  Even when they didn't come away with any core prizes, they didn't give up, they learned from their experience and continued to work towards a solution.
By giving students a positive experience we begin to see the ripple effects, last year as a result they have gained summer work experiences with their project partners working with professional engineers in a real life working industrial environment.  This demonstrates even more the value of STEM subjects.
Students are now passing on their enthusiasm and expertise to encourage our younger years to develop their own specialisms in club sessions.
For me, experiences like these, itself teaches them the value of patience, persistence, and the importance of learning from mistakes in order to achieve success. Its values and worth is a win- win for everyone!