why volunteer?
Do you have a passion for STEM inspiration? Are you ready to meet the next generation of superstar inventors, innovators and creatives?
Volunteer with the Big Bang! We're searching for volunteers across science, technology, engineering and maths – and beyond. Whether you have experience working in science, engineering or events, we'd love to see you.
Volunteering with the Big Bang is a great way to excite the next generation with STEM, gain experience, and meet like-minded people.
Discover our top 5 reasons to volunteer below:
1. Gain personal development
Volunteering with the Big Bang allows you to get stuck in, be creative and gain new skills. It's a great opportunity to develop communication and teamwork skills, as well as build confidence! Whether you're a judge for The Big Bang Competition, or working on an activity at The Big Bang Fair, volunteering is a rewarding challenge.
2. Build your network
The Big Bang Fair and Big Bang Competition couldn't run without the support of amazing volunteers. In fact, over 200 people volunteer to inspire the next generation every year! Volunteering with the Big Bang allows you to join a community, work alongside like-minded people, and develop relationships with people from diverse backgrounds.
3. Grow your professional skills
Joining the Big Bang community offers lots of opportunities to grow your professional skills. From networking with other volunteers and meeting STEM employers exhibiting at The Big Bang Fair, to drafting and sharing feedback on young people's STEM projects at The Big Bang Competition – volunteering allows you to build your CV and experience.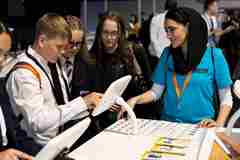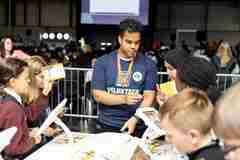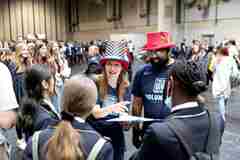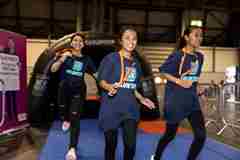 4. Inspire the next generation
Give back to your sector, industry and community as a volunteer. The Big Bang gives volunteers the chance to give back to their profession and make a difference in young people's lives.
After The Big Bang Fair 2022, 75% of students said that attending The Fair made them want to do more STEM activities, and following their visit 63% of students believed they could become an engineer if they wanted to.
95% of students taking part in The Big Bang Competition said they enjoyed the process, and over 70% said they improved vital problem solving and communication skills.
5. It's fun!
Last but certainly not least, it's a lot of fun! If you enjoy events, hospitality and science and engineering – the Big Bang is the place for you.
Apply to be a volunteer and find out more.