Coding| Robotics and Theory of Flight
Explore a range of activities on the RAF stand at The Big Bang Fair.
Exploring how computers work using our Turing Tumbles, take part in our hands on rivet experience, and find out about all the different roles within the RAF.
Don't miss your chance to have a go at the virtual reality RAF experience, plus learn about  robotics and get hands on coding experience using LEGO Spike Prime.
Get involved with aeronautics and learn about the Theory of Flight through making and flying simple planes.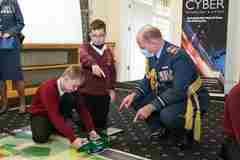 Electronics/robotics/programming
Humanitarian aid
Space/aerospace engineering
Supported by