Earth Wind and Fire - Physics in the Freezer
Check out demonstrations of low temperature physics at Physics in the Freezer!
Discover the world of atmospheric/geophysics with Earth Wind and Fire! Don't miss demonstrations given by Year 10/12 pupils. As an all-girl school, our fantastic presenters will provide a strong role model to get young women involved in physical sciences.
We live on an amazing planet where physics shapes every aspect of our lives! The Earth's atmosphere is vital to life, yet its habitable region is less than 1% of the planet's radius. Meanwhile a few kilometres below our feet the temperature is high enough to melt rocks, leaving continents to float like enormous rafts atop convection plumes that span thousands of miles.
Join Badminton's Science Outreach team to explore how vortices form and can be harnessed to make tornados of fire!
See how extreme temperatures can leave a magnetic record that allows us to track tectonic plates, and watch clouds form in front of your eyes.
Come along to make sure you don't miss our cryogenic demonstrations with liquid nitrogen.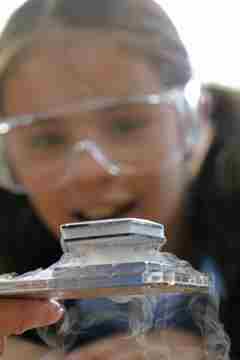 Energy/environment
Space/aerospace engineering
Structures/construction
Supported by