Join in with the University of Warwick
We will offer lots of different activities on our stand.
We will have an electric racing car on display. Our team will discuss the specifics with the interested visitors. Young people (and grown-ups as well!) can sit in the car.
We will have a virtual reality setup that you can use to "immerse" in the schematics of the car to appreciate the complexity of its components. Our team will guide you through the experience.
You can also "look" into the materials used to build a racing car via FTIR spectroscopy (with a musical twist).
You can try to generate power via a hand crank, to be compared with the power produced by solar panels that we will have on display.
You can play a game of Plinko (with tokens we made) to understand how batteries work.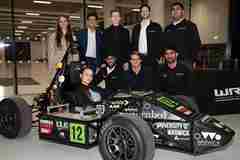 Topics
Resources
More information
Energy/environment
Material/products/manufacturing
Mechanical engineering/system processes
Core STEM Message
The Sun can provide all the energy we'll ever need - we just have to learn how to harness its power!
Expected Learning Outcomes
Appreciate the untapped potential of solar power.
Understand that we can and should move away from fossil fuels to embrace clean, renewable sources of energy.
Realise that every STEM subject is involved into the quest toward a sustainable future
Supported by