Join in with the University of Sheffield Women in Engineering Society
Experience rockets and space up close through a virtual reality space walk! Learn about the science behind it all through this fun interactive experience.
Other activities include learning about electricity and circuitry through snap circuits and learning about magnetism and electric fields through our Plasma ball.
Student ambassadors from the University of Sheffield will be available to answer questions about a wide range of STEM subjects, including what it's like to study and work in STEM.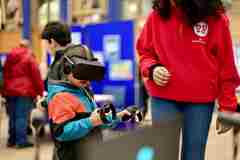 Mechanical engineering/system processes
Space/aerospace engineering
Civil engineering
Core Stem Message
Our core message is to inspire, encourage, and support more girls and women to pursue careers in engineering and STEM fields.
Expected Learning Outcomes
Increased awareness and understanding of the range of careers available in engineering and STEM and an understanding of the skills required for these careers.
Inspiring young people (particularly girls and women) to pursue their interests in Engineering and STEM.
Supported by