Join in with The Society for Radiological Protection
Learn about our Radioactive World!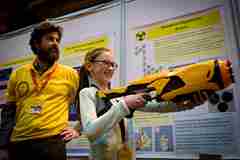 Topics
Resources
More information
Energy/environment
Medicine/healthcare
Mechanical engineering/system processes
Core STEM Message
Our Royal Charter requires us to promote radiation protection for the public benefit.
Our strategic goals include outreach to the general public and, particularly, school children.
We are keen to encourage more young people, especially girls, to study science and maths and to consider careers in science and engineering.
We need to develop the next generation of radiation protection specialists to meet predicted skill shortages.
Expected Learning Outcomes
To be made more aware of the opportunities that lie within science based professions.
Supported by