Join in with The Blair Project
As part of the Planet Possibility Programme, the Blair Project will be bringing its STEM Truck to deliver exciting and engaging physics activities that will open young people's minds to the different career possibilities that can be obtained through physics. On Magnificent Materials you will learn about 3D printing and how to operate it using a simple CAD program on tablets. With Powered Up you can construct simple electrical circuits and power sirens or flying saucers. You will also get to see a Rube Goldberg device constructed from recycled everyday items. Plus, play the Future First Infinity Game and get matched up with your ideal physics role. At our stand you will be able to quiz our staff and volunteers on anything and everything to do with physics and physics careers.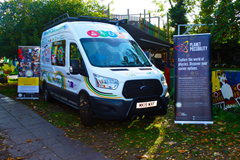 Topics
Resources
More information
Energy/environment
Electronics/robotics/programming
Mechanical engineering/system processes
Core Stem Message
That STEM, and Physics in particular, is accessible for everyone and can lead to many different career possibilities.
Expected Learning Outcomes
Young people will learn that physics is accessible to everyone regardless of their background and that physics can lead to a multitude of different careers.
They will also learn that physics is part of their every day life and not just an activity that happens in laboratories that looks at concepts which are peripheral to their lives.
Supported by