Join in with Specsavers
Discover what it takes to be an audiologist, take a peek into dummy ear canals using special equipment and see the results projected live on a big screen on our stand. Get hands on and have a go at being an optometrist, taking a close look at your friends' eyes using the latest technology with the help of our clinicians.  Use VR to explore the inside of a virtual eye and try our fun and interactive game with simulation specs to see how different eye conditions can affect your reactions and vision! Chat to our amazing clinicians to hear about what they do every day, how they use their STEM skills and why they love their job.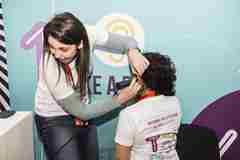 Topics
Resources
More information
Biotechnology
Medicine/healthcare
Core Stem Message
Optometry and Audiology are exciting, rewarding, and dynamic STEM careers. Optometrists and Audiologists are healthcare professionals that change people's lives every day and use cutting edge technology to help their patients. Specsavers is a STEM employer!
Expected Learning Outcomes
Visitors will have increased awareness of careers in optometry and audiology and understand the basics of what an optometrist and audiologist does.
Visitors will gain understanding and experience of some of the skills and technology.
Visitors will have increased awareness of Specsavers as a STEM employer.
Supported by