Join in with the Royal Air Force
RAF Virtual Reality (VR) Experience: Experience a range of activities through the use of VR simulation in the RAF's latest attraction.
RAF Youth STEM (YS) team and STEM Ambassadors: Personnel from the national RAF YS team supported by STEM Ambassadors from across the RAF will be providing the following activities:

Electronic Circuit Builders: Gain an understanding of electronics through the building of simple circuit boards.
Paper Planes: Learn about the forces placed on planes through creating a simple paper plane and test flying on our runway.
Turing Tumble: Explore how computers work through a hands on experience with a Turing Tumble.
Engagement with YS personnel regarding different roles within the RAF from the experts.
RAF Air Cadets: A chance for students to experience flying, via a simulator and engage with Adult Staff and Cadets about their experiences within the organisation.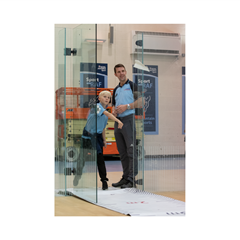 Topics
Resources
More information
Transport
Mechanical engineering/system processes
Space/aerospace engineering
Core STEM Message
Inspire young people in the study of STEM subjects, influence their gatekeepers as to the importance of the study of STEM subjects, and to support their teachers in enriching learning.
Expected Learning Outcomes
To INSPIRE, by delivering fun related STEM activities.
To CHALLENGE by choice, finding solutions to problems.
To EXPERIENCE numerous RAF STEM related careers via a Virtual platform. 
Supported by