Join in with Roke
Robotic Maze Challenge: Students will be tasked to programme a small robot buggy to traverse a maze. Combining programming with hardware in an interactive but deceptively challenging way.
Cypher Safe Cracking : Students will attempt to crack the safe and claim the prize inside. However, the safe has been secured using cyphers and encryption, so students will need to break the code to get in.
VR Worlds: Students will interact with 3D worlds and environments through our VR headsets. Showing both current and future applications.
Squads or Swarms: Understand the difference between a squad and a swarm buy taking control of one of our RC cars. Working together to complete goals and tasks.
Real or AI: Students will be presented with two images, one real, one produced by AI and will have to guess which is which. Alongside this the volunteer will explain the opportunities and dangers of AI.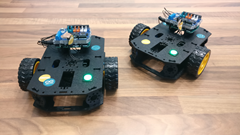 Topics
Resources
More information
Electronics
Robotics
Programming
Core STEM Message
Making the extraordinary everyday
Expected Learning Outcomes
Learners will be able to plan out a route and programme a robot to complete the route.
Learners will be able to identify and utilise simple cyphers.
Learners will be able to understand the difference between swarm and cluster robotics.
Supported by