Join in with Nissan Technical Centre Europe
Join in with us at the Big Bang Fair and get stuck in with:
Car in a Suitcase
Display Screens (Presentations / Schemes)
Place to host materials and freebies
An Ariya sliced in half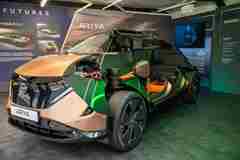 Transport
Material/products/manufacturing
Mechanical engineering/system processes
Core STEM Message
We embrace diversity as a management strategy in recognition of its crucial role in boosting corporate competitiveness. Nissan's social contribution activities share this awareness and are aimed at mitigating poverty, providing assistance to the financially and socially disadvantaged.
Expected Learning Outcomes
To learn more about Nissan.
To feel that Nissan are inclusive to people and the environment.
Feel satisfied about the Company and comfortable towards their future.
Supported by