Join in with National Grid
Greetings! Are you familiar with National Grid? At The Big Bang Fair, we will explore the fascinating world of electricity and its various applications through engaging demonstrations and activities.
Firstly, we have an exciting demo called "Wavey Man" where we will showcase the practical uses of electricity. Additionally, we will delve into the crucial roles of National Grid and its extensive network of cables. This will be demonstrated through a captivating display of interconnected cables, highlighting connects such as skin effect using wire wool and battery.
Next, we will conduct a demonstration involving a conductor and a bracelet, showcasing the properties of conductivity. This interactive activity will provide insights into how electricity flows through different materials.
Furthermore, we will introduce the innovative t-pylon design and discuss its significance in the energy transmission field. To emphasize the importance of teamwork, we have a fun activity called "Throw T-Pylons".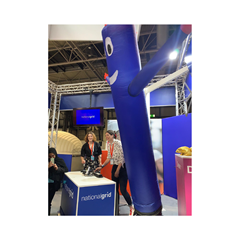 Topics
Resources
More information
Energy/environment
Entertainment/sound and lighting
Electronics/robotics/programming
Core STEM Message
We want to inspire and support young people to develop the skills and knowledge to enable them to pursue careers in STEM. We believe that by encouraging STEM education and promoting STEM careers, that we can build a diverse and talented workforce that is equipped to meet the challenges of the future.
Expected Learning Outcomes
Through our STEM initiative| we aim to inspire and support the next generation of STEM professionals and to ensure that the UK has a diverse and skilled workforce to meet the challenges of the future.
Supported by