Join in with Leonardo
Test your skills at our Rampaging Chariots arena, putting some powerful and lightweight robots around an assault course and learning about electronic engineering techniques that are the basis of many of the many of the UK's most complex engineering programmes.
Our Miysis: Sense and Detect exhibit simulates a real-life Miysis Direct Infrared Countermeasure, detecting threats and tracking them around the room. See it in action tracking down teddy bears and differentiating them from the safe humans.
Locate and rescue those lost at sea with our AW101 exhibit. Cranking the handle will turn the helicopter's blades and cause it to lift off, after which attendees can steer it towards flashing red lights. Hovering over the lights will turn them green, saving the stranded seafarers.
Project Grid – Can you help prevent the cyber-attack before it is too late? This physical display demonstrates why a robust cyber resilience solution is so critical, when a cyber-attack is focused on CNI.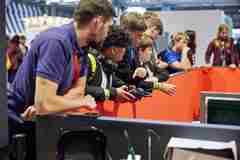 Electronics/robotics/programming
Mechanical engineering/system processes
Space/aerospace engineering
Core STEM Message
Make your Mark.
Your ideas can build the future…

Expected Learning Outcomes
How our Miysis DIRCM works.
How our technology protects CNI.
Information about our SAR helicopters.
Supported by