Intellectual Property Office
Thirty years ago, Wallace gifted Gromit an invention called "The Techno Trousers" only for them to become the Wrong Trousers.
30 years on and Wallace and Gromit are on a mission to make the wrong trousers right and we are asking children to reinvent the Wrong Trousers and turn them into something that can do good for our planet!
The competition is open to individuals/schools/youth organisations the whole of the UK; with the chance to win some amazing prizes courtesy of Aardman. The main prize will be a model making workshop for their class/group and very special goody bags for the runners up.
As an extra special prize this year, each winner and runner up will receive an eco-friendly, STEM-inspired 'Techno Trousers' kit gifted by the wonderful Build Your Own team!       
The Build your Own team will also be on the stand for part of the event to show case their STEM inspired and award winning paper/card toy models.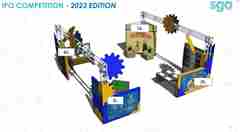 Topics
Resources
More information
Core STEM Message
At the IPO we aim to promote STEM and have a number of initiatives aimed towards achieving this.
Inside STEM Series - involves us producing short introductory videos for schoolchildren on areas of technology that will be influential in their future, and at the same time raising awareness of IP in school aged children.  
Girls in STEM - This involves a one-day event at the IPO where we host approximately thirty 11-12 year old girls from a local school, for a day of STEM & IP-related teaching activities, and fun.
STEM Ambassadors - A number of our outreach volunteers are also STEM Ambassadors. The STEM Ambassador scheme is a national initiative that links STEM professionals with schools (and other organisations).
We will be working with a company called "Build your Own", creators of an award-winning range of STEM-inspired sustainable toys you can build yourself. They are all designed in the UK by their team of paper engineers.
Expected Learning Outcomes
To learn about Intellectual Property.
Understand how innovation and STEM work together.
Supported by