Join in with Institution of Civil Engineers
In addition to videos showing six children talk to TV presenter and engineer Rob Bell about a wide range of global problems, a challenge booklet is available for older primary students, including guided activities to work through with teachers, STEM Ambassadors, or parents.
ICE STEM Ambassadors will be on the stand to talk through and demonstrate other activities too.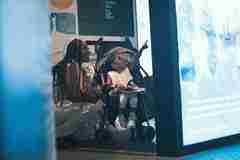 Topics
Resources
More information
Transport
Energy/environment
Civil engineering
Core STEM Message
Time Is Running Out. Help us engineer a net zero world.
Expected Learning Outcomes
To greater understand the role of civil engineers in helping society respond to the challenges of climate change and meet net zero targets by 2050.

Supported by