Join in with Generation Aviation
Discover what a career in aviation and aerospace is like with the Civil Aviation Authority, Aerobility, The Royal Aeronautical Society, British Airways and TUI. 
Aerobility
Virtual Aviation Experience (VAE) is your chance to access instructed flight simulation from home.
If you have ever wondered about the Magic of Flight but have never explored this further then Virtual Aviation Experience is your opportunity to do so. VAE offers 3 x 60 minute interactive sessions between you and your Instructor. On the course you will learn about the basics of flight the effects of the controls of the aircraft, flying straight and level, climbing, descending, turning an aircraft safely and more! The experience introduces students to the basics of flight whilst also developing transferable skills such as decision making, problem solving and situational awareness - all of which are handy in life outside the cockpit as well as inside.
So whether this is the beginning of a new career or a new hobby then VAE is a great place to start.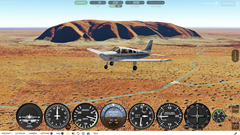 Civil Aviation Authority
Paper plane challenge - using the designs provided (or designing it yourself) your task is to build a paper aeroplane and fly it through three consecutive hoops, if successful you will win a prize!
Who am I - using a selection of cards featuring a career in aviation or aerospace you will pair up with either a friend/teacher or CAA colleague to play this game. By asking a variety of questions and with a few hints and tips you have to guess what the person on the cards job is.
Fuel cell kit - A fuel cell kit that shows the very basics of how a fuel cell works and spins a propeller
Royal Aeronautical Society
Aerozone: Flight Simulator, Build-a-Plane and more! Join the Royal Aeronautical Society for a exploration into the diverse world of aerospace, aviation and space! Take to the skies through one of our flight simulators. Design different gliders and see how they fly.
Chat with our team about the world of aeronautics and the exciting future that you can be a part of.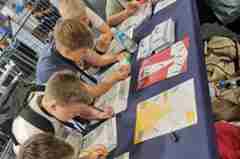 Topics
Resources
More information
Aviation 
Aerospace
Transport
Technology
Innovation
Core STEM message
Aerobility - to bring the disabled community access to STEM related activities and employment
Civil Aviation Authority - We want to inspire and engage with young people to explore careers in STEM| aviation and aerospace to support and encourage their future career choices. Aviation and aerospace needs to be ready for the future and we need different talent| ideas and values to make that happen. We need talented people like you. We are committed to supporting the ambitions and interests of everyone to create opportunities which are inclusive and engaging for all
Royal Aeronautical Society - that the industry of aerospace, aviation and space is a really diverse, fun and interesting STEM environment that is constantly shifting and growing
Supported by