Join in with FUZE Technologies
FUZE specialises in making real coding accessible and engaging for people of all ages and ability levels. Anyone can code! Using our application "FUZE4 Nintendo Switch" – a program we designed to make coding accessible for beginners, we utilise Video Game mechanics to contextualise computer science learning in an engaging and exciting way. This is not to be confused as playing games. Students are shown real world video game examples of the techniques they learn in action, maximising enthusiasm and receptiveness to more complex concepts.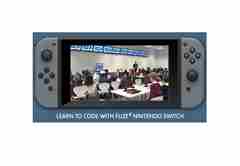 Topics
Resources
More information
Electronics
Robotics
Programming
Core STEM Message
Real coding is for everyone! No matter your career path, in the modern-day job market, coding is a vital skill which bolsters employment options. It's also easier to get started than you might think!
Expected Learning Outcomes
For those who are on the fence about coding, we hope to show them that real coding is fun, exciting and easier than they thought to get started!
For those who are experienced in coding concepts, to provide them with an activity that allows them to further their skills and confidence! 
That no matter your ideal career, background or abilities, coding truly is for everyone!
Supported by