Join in with Discover Materials
Join us to discover the world of Materials Science and Engineering (MSE).
MSE is about understanding how the different materials all around us behave and what they can be used for.
Use our microscopes to investigate what different materials and object look like very close up and investigate how they behave by breaking chocolate bars and squashing sports balls.
Learn how important the design of a product is by disassembling a model car and reassembling it.
Discover how batteries work, how they are made and how they can be recycled to help build a more sustainable future.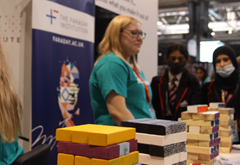 Topics
Resources
More information
Energy/environment
Material/products/manufacturing
Core Stem Message
How important Materials Science and Engineering is to building a more sustainable future.
Expected Learning Outcomes
Appreciation for how the materials you encounter everyday behave.
How to measure some properties of materials.
How to use materials to help develop a more sustainable future.
Supported by