Join in with DePuy Synthes
Activity 1: SIMENDO Laparoscopic Simulator
Visit us at The Big Bang Fair, to try the Simendo laparoscopy simulator! It is designed for all laparoscopic specialties, such as general surgery, gynaecology and urology. The simulator enables us to train professionals in laparoscopic skills and this is your chance to give it a try!.
Activity 2: Medical Engineering Puzzle Boxes
The Medical Engineering Puzzle Boxes are a series of 4, individual, mysteriously locked, wooden boxes. Each box is locked with a number digit padlock. Have a go at solving a series of puzzles in order to work out the correct code and unlock the box. Each box is associated with a different job role involved in the production of a medical device, specifically joint replacement devices.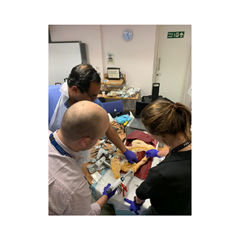 Topics
Resources
More information
Biotechnology
Medicine/healthcare
Material/products/manufacturing
Core STEM Message
To improve awareness of medical engineering as a fun STEM career and to increase STEM capital..
Expected Learning Outcomes
To introduce the students to the exciting world of medical engineering and the variety of different job roles involved and how the students can access careers within the industry.
To understand the individual stages involved in the process of producing a medical device and how this translates into the operating theatre where they are used day-to-day to help save/improve the lives of millions of people around the world.
To develop knowledge of the human body in particular the skeletal and muscular systems in order to align with KS3 Biology content, as well as introducing human factors and device-tissue interaction.
Supported by