Join in with Code4Drones
Drone Coding Experience!
Code4Drones is hosting drone coding drop-in sessions, allowing students to learn and apply skills in designing, writing and debugging codes which they will use to fly drones.
Students will have the opportunity to complete basic coding tasks where they will use their codes to control drones along specific paths.  Once learning the basics, students will then be able to implement these skills by coding their drones to fly through an assault course.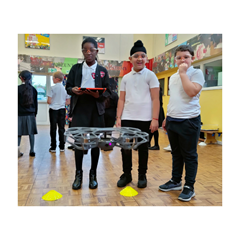 Topics
Resources
More information
Transport
Electronics/robotics/programming
Space/aerospace engineering
Core Stem Message
Although not always visible, computer codes are found in most everyday electronic devices, by combining Science, Engineering and Maths to advance Technology. Coding can be treated as an art, as when a code has a particular objective to complete or a problem to solve, there is no right method and is only limited by the coders creativity. Moreover, drones are currently at the forefront of technology and are being used across multiple industries. By combining drones with creative and advanced codes, drones are able to complete complex tasks at the click of a button and will fly without the control of a pilot.
Expected Learning Outcomes
Gain practical experience in designing, writing, applying and debugging codes, enhancing student's computer science and digital literacy skills by flying drones in a safe manor.
Understand and implement fundamental principles and concepts of computer science, including computational thinking, mathematical logic and algorithms.
Understand the science and basic principles of flight that enables a drone to take off from the ground and fly.
Supported by