Join in with BBC
Making programmes for TV, online or audio is what the BBC is known for, but did you know that it's also a place where STEM innovation and opportunity thrive?
As well as journalists, presenters, and programme makers, the BBC is home to Scientists, Technologists, Engineers, and Mathematicians. Whether they're working their magic to make websites, like BBC Bitesize, or part of making programmes on BBC iPlayer or Sounds, each of them plays a crucial role in what the BBC does. 
At our stand you'll be able to meet some of our coders, camera operators and technicians and find out more about what they do and why STEM skills are at the heart of the BBC.
You'll also be able to:
learn elements of coding a BBC webpage
learn how breaking news stories are updated online
put your camera operating or presenting skills to the test in our green screen gallery
learn about some of the different STEM roles at the BBC and the career paths into them after you finish sixth form or college.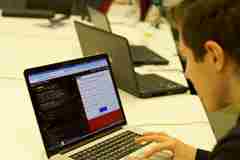 Topics
Resources
More information
Entertainment/sound and lighting
Electronics/robotics/programming
Core Stem Message
To make great content, the BBC needs your STEM skills!
Expected Learning Outcomes
To inspire students to study STEM subjects and know there are many opportunities for them in the BBC and wider media industry in those areas.
For students to see learn how technology is helping the BBC become a sustainable broadcasting organisation.
For students to understand how the BBC impacts their learning and lives, and how STEM is at the heart of that.
Supported by