Join in with Atkins
See how Atkins can help shape your future.  We will provide an iPad that you can use to navigate and explore the path ahead.  You will need to scan the markers/images that appear on the stand and answer the questions. Once you've answered all the questions then hand back the iPad and find out your future through one of our STEM characters. You will then receive a printout with your STEM character as a reminder that everyone has a role to play in engineering a better future for our planet and its people.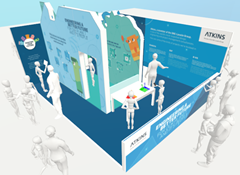 Topics
Resources
More information
Transport
Energy/environment
Civil engineering
Core STEM Message
Engineering a better future for our planet and its people.
Expected Learning Outcomes
Understand what is possible for the future and to meet STEM professionals so that students can clear up misconceptions around STEM.
Understand what roles are available and to acknowledge that anyone can do anything and everyone can make a difference.
For teachers and parents to increase their awareness of the breadth of opportunities available within STEM and to share these opportunities with their students/children by encouraging their participation in stand activities.
Supported by