Employer Engagement Session: Rolls-Royce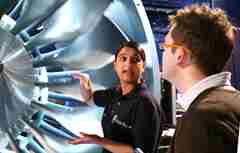 Click here to watch the video and here for accessible content!
Join Rolls-Royce and Fayon to learn more about the uses of science, technology, engineering and maths in their company and some of the amazing careers they have to offer. There will be lots of opportunities to ask your questions via the Q&A box.
During this session, you will hear about the amazing career routes that Rolls-Royce offers. We recruit for various apprenticeship programmes, including Degree Apprenticeships, and apprentices receive a combination of on-the-job training, digital learning and practical skills development as they study towards nationally-recognised qualifications. The apprenticeships we offer range from level 3 through to level 6. We also offer internship and Graduate Trainee opportunities.
Fayon Dixon

Ellie Long

Anesu Chivenga

Freya Bexon

Rupesh Mishra
British Sign Language
No Audio Description*
*This video is someone talking and therefore has no audio description
Supported by